Learning Resources
WOW! I CAN READ WORKBOOK STAGE 1
(Modern Cursive)
LWB1MC $7.99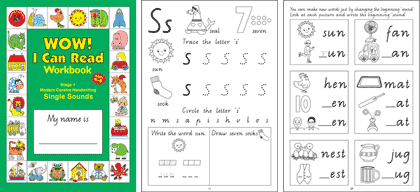 This 48-page workbook has carefully selected activities that will help children revise and consolidate their knowledge of the letters and sounds of the alphabet while developing their handwriting skills. The workbook has been designed using fun graphics and uncluttered pages to take the beginner reader from the recognition of the single sounds, to the decoding of three or four letter phonetic words, to the successful reading of simple sentences. Included in this delightful workbook are exercises for:
Rhyming words.

Beginning, medial and final sounds.

Matching sounds/words to pictures.

Adding letters to form or change words.

Increasing comprehension and vocabulary.

Identifying the shapes and patterns made by different letters and words.
WOW! I CAN READ WORKBOOK STAGE 2
(Modern Cursive)
LWB2MC $7.99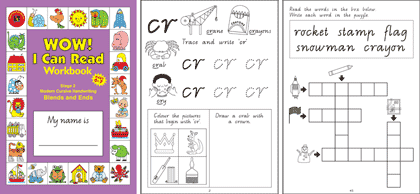 Workbook Stage 2 has a wide variety of interesting activities that will make it fun for children to practice their recognition and writing of the following 27 sounds: br, cr, dr, fr, gr, pr, tr, bl, cl, fl, gl, pl, sl, sc, sk, sn, sp, st, sw, kn, tw, and ck, le, ll, mp, ing. The 48 page workbook introduces each sound in a simple systematic order and has appealing worksheet exercises including:
Word attack and decoding.

Comprehension – following directions and classifying.

Rhyming words and word families.

Vocabulary extension.

Matching words/sounds to pictures

Crossword puzzle.

Finding little words in bigger words.

Reading and completing sentences.
WOW! I CAN READ WORKBOOK STAGE 3
(Modern Cursive)
LWB3MC $7.99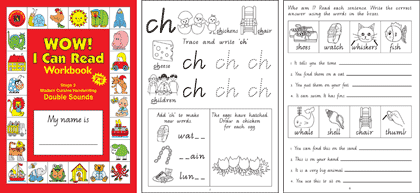 Workbook Stage 3 will help children become competent and fluent readers with the ability to automatically recognise and write the following 31 sounds: ch, sh, th, wh, ee, ea, ey, ar, er, ir, ur, oo (zoo), oo (cook), oa, ow (bow), ow (cow), ou, ay, ai, or, aw, au, a-e, o-e, i-e, igh, air, oy, oi, ie, y (cry). The 48 pages of this workbook are based on a wide range of interesting activities which children will enjoy completing. The sounds have been placed in groups, which are introduced in a systematic order. This will allow the children to practice and revise each group of sounds before progressing to the next selection.
IT'S FUN TO READ
LIFR $3.99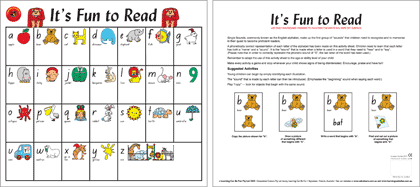 It's Fun To Read, is an inexpensive resource that can be used time and time again. The surface of the laminated cardboard worksheet can be written on with a white board marker and then simply wiped clean. This will allow children to:
Write a word.

Draw a picture.

Practice letter formation for each sound of the alphabet.
Suggestions for use are printed on the back of the 37cm x 33cm board.
ALPHABET DESK STRIPS
LADSM Victorian Modern Cursive Script
LADSF NSW Foundation Script $21.99

Classroom packs of 30 removable adhesive desk strips, showing both upper and lower case formations. Laminated for extra protection. Available in both NSW Foundation Script and Victorian Modern Cursive Script. Each Desk Strip measures 42cm x 10cm
SILLY ALPHABET FRIEZE
LSAF $13.99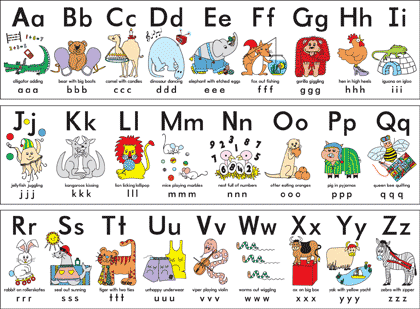 The amusing illustrations of the Silly Alphabet Frieze are designed to encourage young children to say/sing the phrases used for each letter of the alphabet. The frieze comes in three sections and is certain to stimulate lots of discussion! Each measures 23cm x 100cm.
SINGLE SOUNDS ARE FUN CHARTS
LSSN $11.99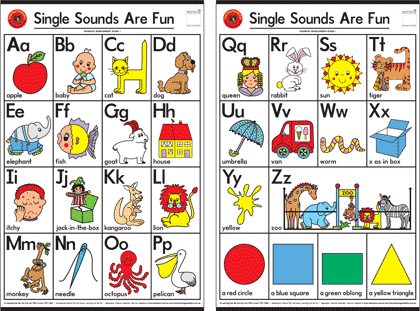 This set of two brightly coloured charts will make it easy for you to capture your children's attention. The charts are laminated allowing you the option of using a whiteboard marker. Phonetically correct, all charts come with removable plastic hangers for easy display. Each chart measures 50cm x 74cm.